by Bryan Segal
Senior Vice President, Commercial, Comscore
This article is part of a series of insights that reveal a Canadian perspective on the impact of the COVID-19 pandemic on consumer behavior and significant audience shifts across digital platforms.
Things are moving fast. Following our last update regarding digital media consumption during the Coronavirus pandemic, this article will highlight some of the major category changes reflected as of the week March 16 – 22, 2020.
Key themes
Digital consumption continues to grow: the visits and minutes curve is not flattening
Key content categories such as news, social media, and government are being driven by higher engagement: metrics include visits and duration
More engagement with news sites: sites categorized as local, business/finance, and general news are main drivers
Categories that focus on entertaining, kids, food, financial advice, and children's education are also seeing growth: growth comes from increases in aggregate unique visitors, visits and minutes
Automotive manufacturers, real estate, sports and travel entities have seen decreases: however, they are poised for major increases and a bounce back.
Mobile platforms are driving growth: some differences between desktop and mobile engagement
Total digital consumption continues to grow
When we analyzed Canadian total digital media consumption to compare the percentage change between the week of March 16, 2020 and the first weeks of January 2020, February 2020, and March 2020, we found that overall digital engagement is not flattening. Even comparing the beginning of March against mid-March, we can see visitation, visits, and engagement continuing to grow.

Looking at the total digital consumption trend over time, we can see growth in total minutes spent online while total visits have remained relatively flat.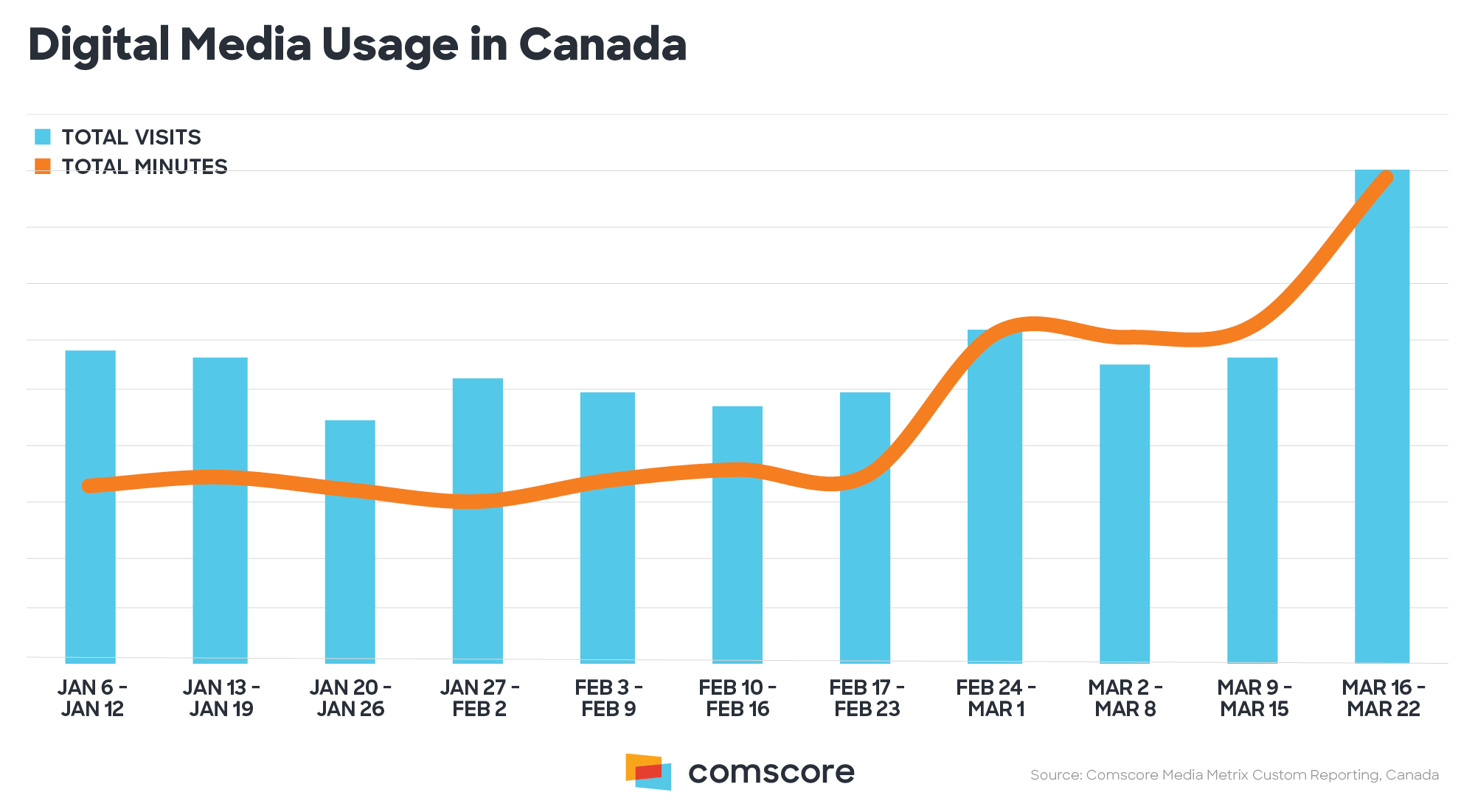 There are several content categories that we are seeing major growth in each of the time periods: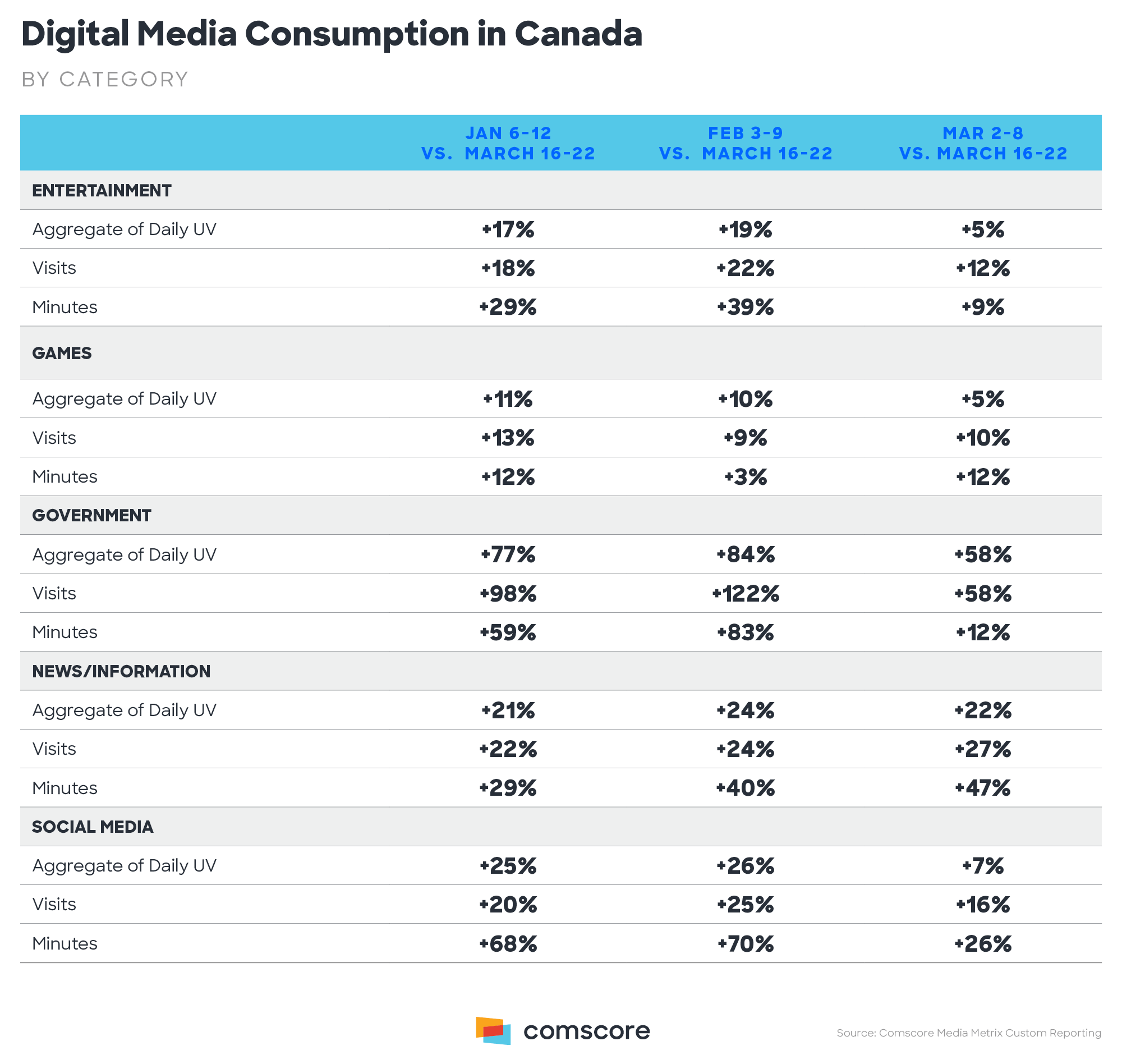 These digital categories of news/information, social media, entertainment, government and games are showing continuous growth. The need for ongoing news and information updates, government information, flocking to social media to bring community together and message, and the need to be entertained with visitation and engagement on Entertainment and Games Entities.
To look at the news/information category a bit closer – it is amazing to see the category growth over the past few weeks of Canadians going to news entities to get updates. The hockey stick growth from the start of March 2020 is very evident.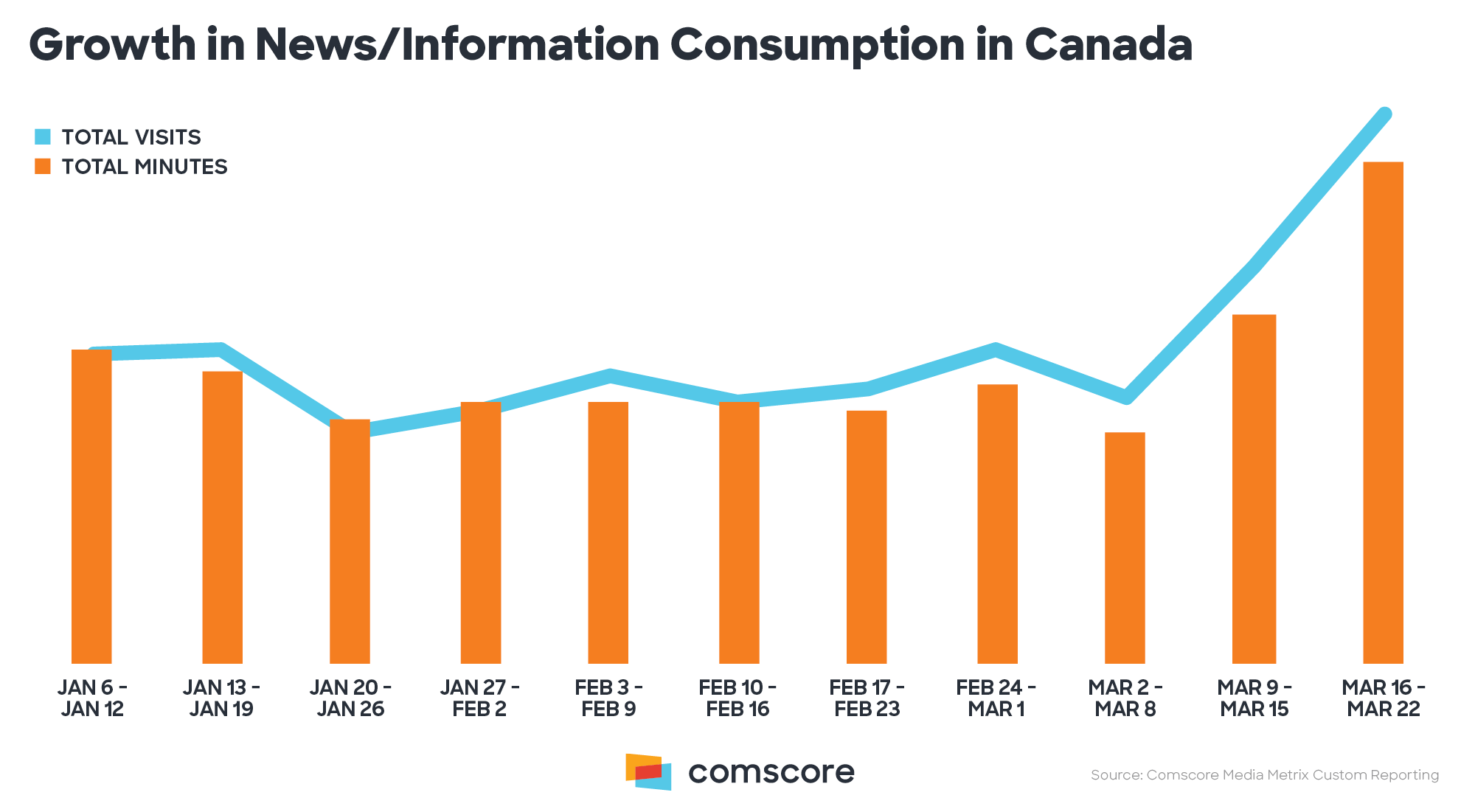 The news and information growth is being driven by local news, general news, and business/finance news. That being said – technology, politics, and weather are also seeing growth.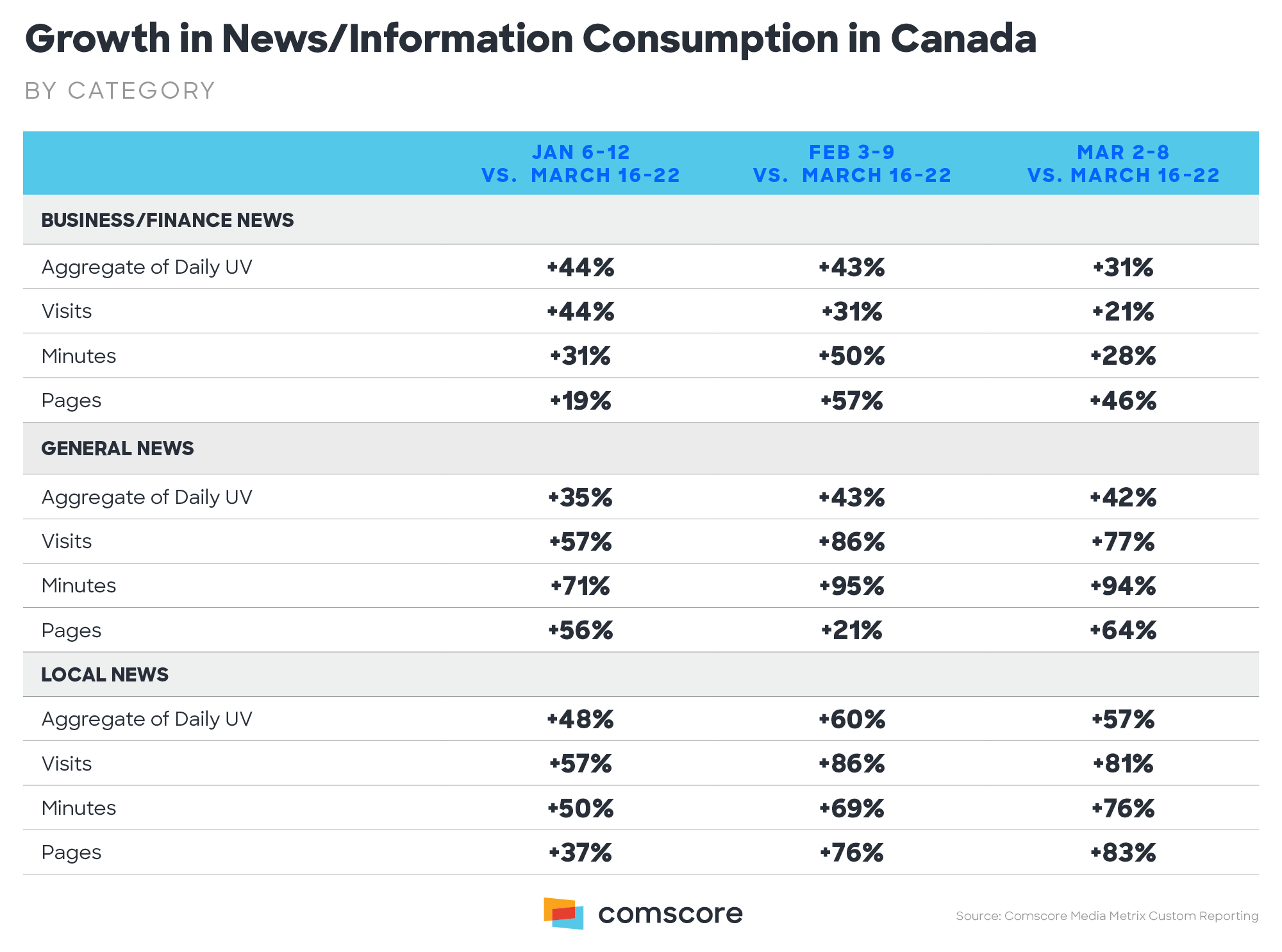 Through these time periods, we are also seeing some other categories that are showing significant growth. Many of the categories are a result of many Canadians being home bound and isolated, and with families with kids having the kids at home.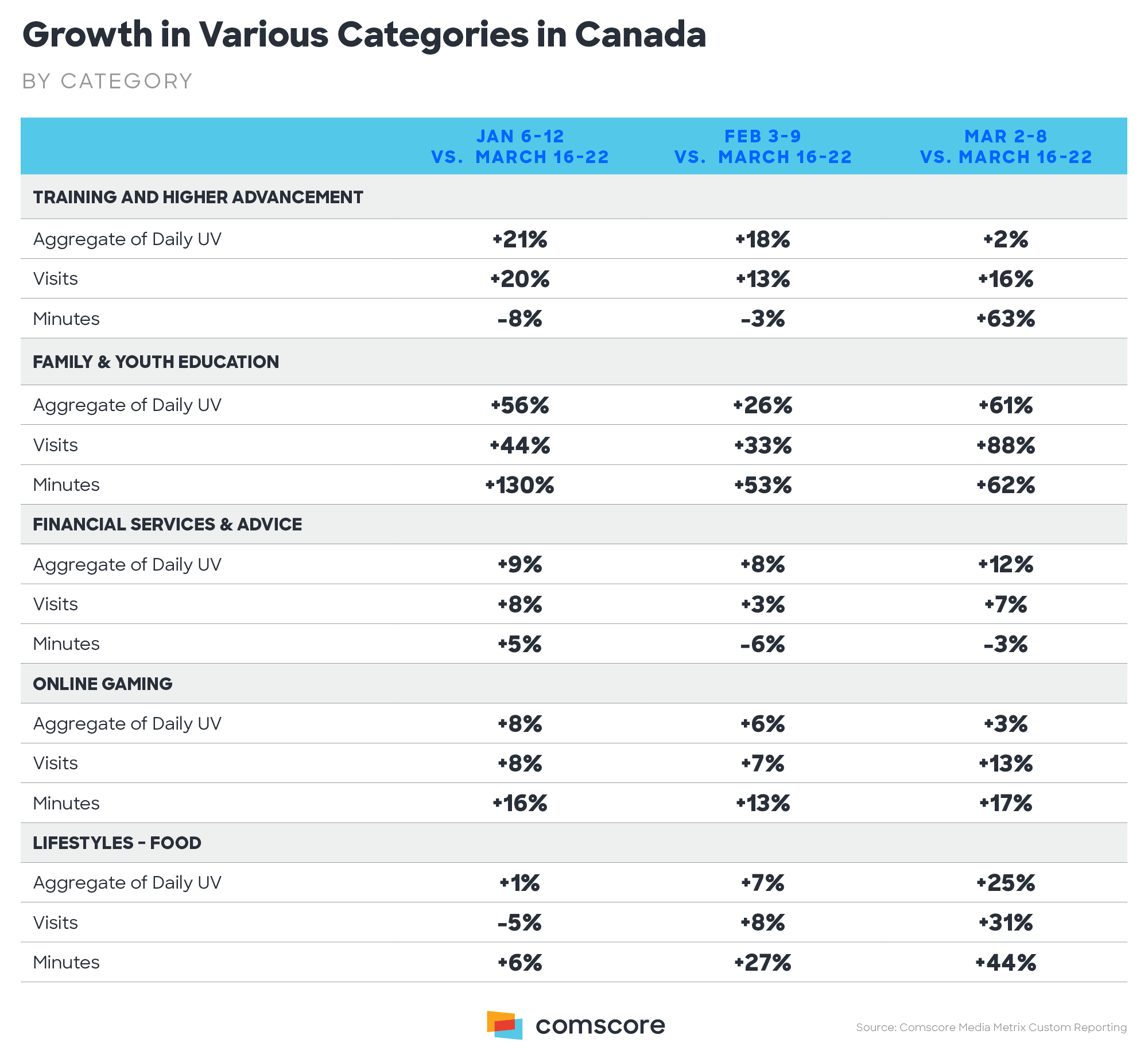 One of the areas that we have been asked most about is whether we find any variances between desktop and mobile platforms. When reviewing the data, there is greater engagement with mobile platforms in the week of March 16 compared to other weeks.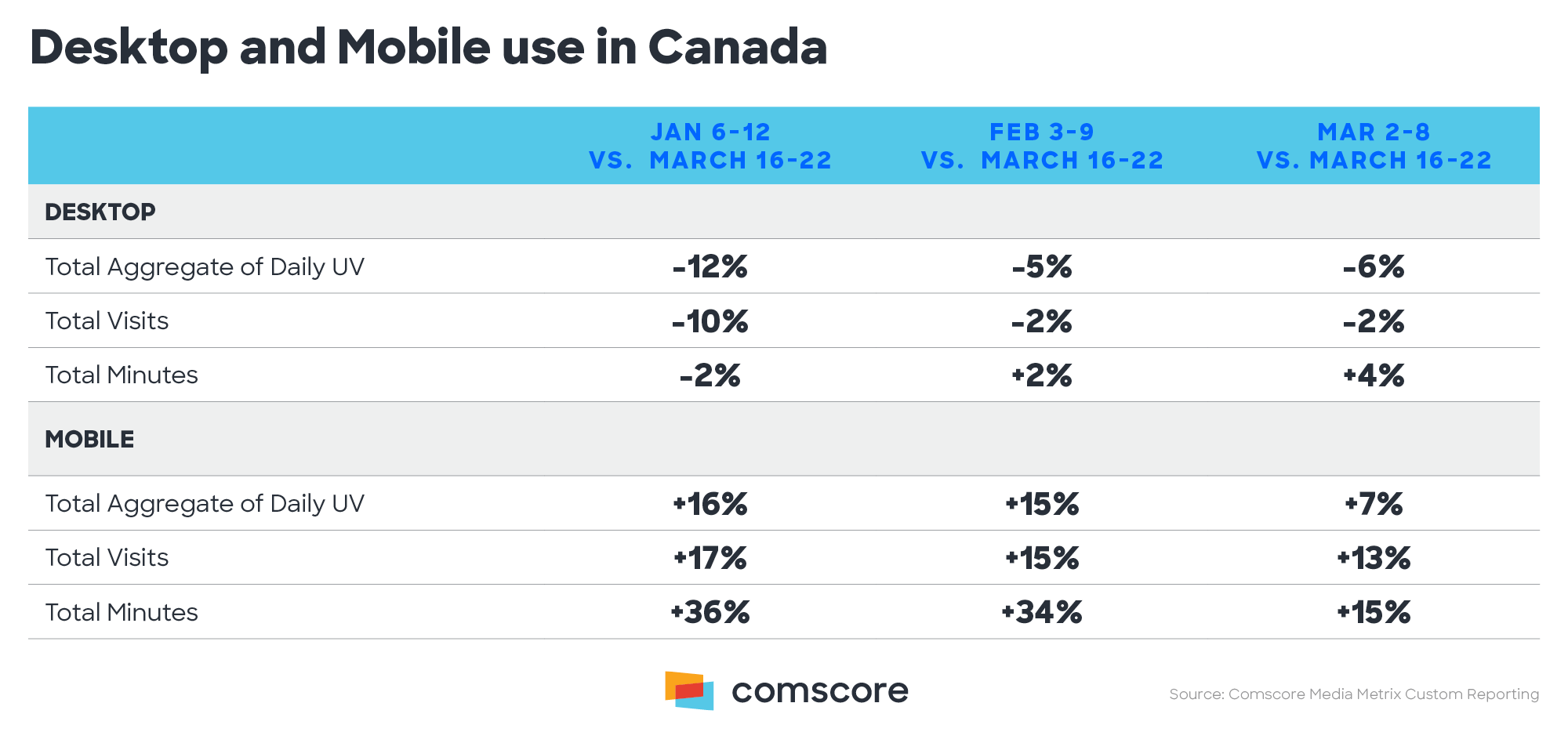 Amidst the global COVID-19 pandemic, we are seeing a significant increase in digital consumption amongst Canadian consumers. The data trends show Canadians are flocking online with significant growth in news entities, instant messaging, social media, government resources, entertainment, music destinations, video, and financial websites. What this means for marketers and advertisers is a significant opportunity to reach Canadians who are highly engaged and are looking for relevant and timely content.  It comes down to delivering the right message, at the right time, in front of the right audience, in brand safe environments.